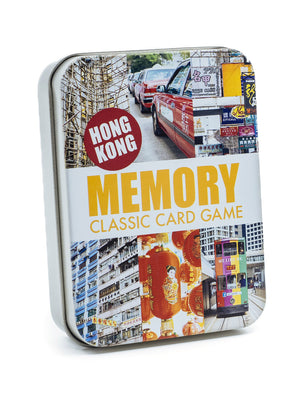 Hong Kong Memory - Classic Card Game
Sharpen your memory skills with this classic matching card game. The Hong Kong Memory Game contains 56 cards, 28 pairs of unique images and details captured around Hong Kong. Held within a tin case, it's the perfect game to pop in your bag, take with you and play any time, any place you fancy. A fantastic gift for the young and the young at heart!
The pictures on the cards include HK icons such as the Star Ferry, street signs, taxis, wet markets, washing hanging from a bamboo pole, dried seafood and the big buddha to name but a few.
You play the game by finding pairs of matching images. Lay the cards, images face down in a grid, turning over 2 cards at a time. Turn one card first, then another to see if you have found a matching pair. If the cards are not identical, return them face down, in the same place and try again! The game is won by the player who has found the most matching pairs.
Tin: 70mm x 96mm
Playing Cards: 64mm x 89mm
Quantity: 56
Shipping across HK, takes 5-7 working days. For international deliveries, please contact us at: hellochinabcs@gmail.com for rates.
All rights reserved. Copyright © 2016-2022 Ginny Malbon.