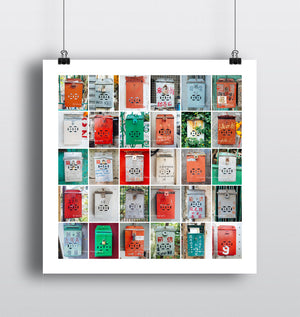 Print - Hong Kong 30 Letterboxes
This piece of art features 30 different Hong Kong letterboxes - true icons of Hong Kong! They're hand crafted from aluminium, some new, some old, some bashed, some personalised - love them all! They're getting harder and harder to find across the streets as its a dying trade that the younger generations are not so interested in, sadly. So keep your eyes open when you're walking around the streets...

It is printed on Epson professional paper, using original Epson Inks creating an archival grade print for quality, vibrancy and longevity. To prolong the life of your artwork, please hang the art away from direct sunlight.
The image size is 28cm x 28cm and fits inside an Ikea frame. Should you wish to have it custom framed, we recommend leaving a 0.5cm - 1cm paper border around the image, with a minimum 6cm paper mount to display the image.
Production and delivery will be 7 - 10 working days from your order.
If you would like the art larger, as a framed print or ready to hang canvas, please message us for more details.
All rights reserved. Copyright © 2016-2022 Ginny Malbon.