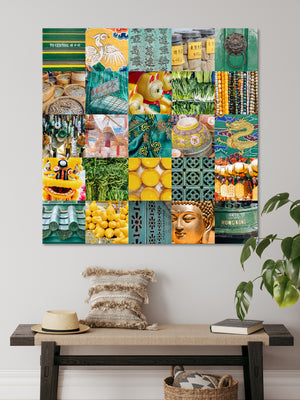 Hong Kong Colours - Green & Yellow
The gorgeous colours of Hong Kong's green and yellow. A beautiful collection of every day details combined together to create an iconic piece of art to hang on your walls. Within the collages there are lucky cats, the Star Ferry, neon signs, fresh wet market vegetables, dim sum baskets, temple window tiles, incense coils, egg tarts, a lion and a dragon to name but a few.
SIZES
The sizes and prices listed here are the actual image size,  so in the case of the rolled print, there will be an additional 2"-3" white border (depending on print size) around the image when you receive the artwork in the packing tube.
For ready to hang canvases, the size listed is the actual finished size of the canvas. Each canvas has white sides and is stretched over a 1.5" wooden bar.
For framed prints, we are able to present your chosen art simply with a white, black or grey matt finished with a simple white, black or dark brown wood frame. Again, the size listed is the image size so the final sizes of the received framed art will be:
16" x 16" 

framed size: 22" x 22"

24" x 24"

framed size: 30" x 30"

34" x 34" framed size: 40" x 40"
MATERIALS
Each piece of art is physically created using archival grade Epson Inks. The paper stock is 250gsm premium Epson paper. The canvas is 100% cotton, weighted approximately 350gsm. The combination of these materials together ensures quality, vibrancy and longevity. To prolong the life of your artwork, please hang the piece away from direct sunlight.
CUSTOMISATION & MAXIMUM SIZES
As each piece of art is printed to order, there is an option to resize or customise the art, if you have a specific size or an idea in mind. Please send us an email enquiry to see what is possible. 
The maximum frame size we can construct is 40" x 40". The maximum canvas we can create is sized 50" x 50". The minimum canvas size is 8" x 8".
SHIPPING
Hong Kong delivery is between 5-10 working days. For INTERNATIONAL ORDERS, please send an email enquiry on the additional shipping costs.

PRODUCTION & DELIVERY
Every piece of art is printed, finished and packed to order. Please allow 7-10 working days from payment for your art to arrive.
OTHER COLOUR WAYS
Similar collages are the Red and White:
Or the Black and Natural:
All rights reserved. Copyright © 2016-2022 Ginny Malbon.