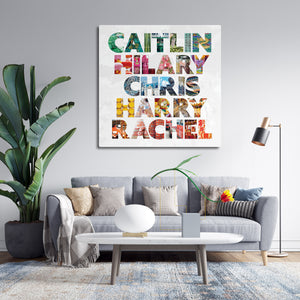 Family Names in HK Images Alphabet
What's in a name? Your favourite images of Hong Kong! Create a family heirloom - Unique and personalised wall art for your home, that brings back fond memories of Hong Kong every time you look at it. Choose from a huge collection of Hong Kong icons, details and street details to put inside your names - single colours or mix it up. It's up to you!
PRICES
Prices start from HK$1,000 for the design fee. Each piece of art created is unique and made just for you, thus prices are based on the number of letters + images, the printed material and size. If you are interested in creating your very own personalised price of art, please send us an email at: hellochinabcs@gmail.com
 
MATERIALS
Alphabet Art is available in 3 different options:
Paper print, rolled in a large packing tube

Framed print

Ready to hang canvas

All artwork regardless of material is printed using original Epson Ink to ensure vibrancy and durability. Please ensure that you hang the art away from direct sunlight to ensure fading does not occur for years of visual enjoyment.
The paper print option uses Semi Glossy 250gsm Epson Premium Photo Paper. The framing option presents the print in a simple and elegant way, with a white matt and a choice of 3 different coloured wood frames - black, dark brown and white. The ready to hang canvases use 100% cotton weighted around 380gsm. They are stretched on a 1.5" deep wooden bar.
FROM START TO FINISH...
A few days after full payment has been received, You will receive 2 different designs, 1 a mixture of colours and the other based on colourways unless you let us know otherwise. If you have any images that you've seen already and love, let us know and we'll make sure that they're in your artwork.
After the first round presentation, 3 rounds of amends are included in the quoted price. After this, artwork changes will be charged for to cover the time involved in making the requested changes.
Production and delivery takes between 7-10 working days from artwork confirmation and submission to the printers.
All rights reserved. Copyright © 2016-2021 Ginny Malbon