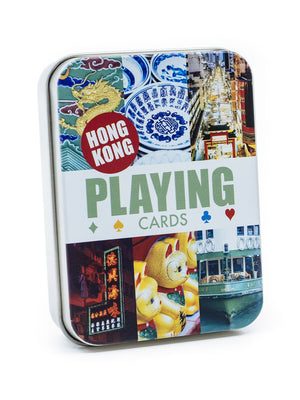 Hong Kong Playing Cards - Classic Card Game
Custom designed playing cards, showing the amazing and vibrant city of Hong Kong. Held within a tin case, it's the perfect game to pop in your bag, take with you and play any time, any place you fancy! Sure to create conversation at the card table whenever this deck of beautiful cards is out to play with family and friends!
52 unique cards, each with a different image of all the things that help make the city such an amazing place – details, street scenes and HK icons such as lucky money cats, taxis, the Star Ferry, egg tarts, Chinese junk boat, letterboxes, neon signs, dragons and many more. These cards are perfect for playing all your favourite card games!
Tin: 70mm x 96mm
Playing Cards: 64mm x 89mm
Quantity: 52
Shipping across HK, takes 5-7 working days. For international deliveries, please contact us at: hellochinabcs@gmail.com for rates.
All rights reserved. Copyright © 2016-2022 Ginny Malbon.