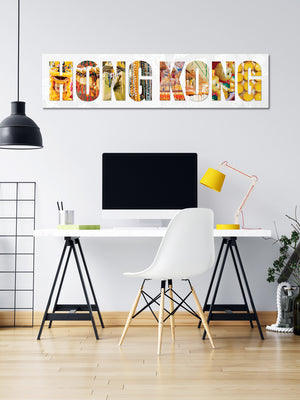 Hong Kong - Scenic Alphabet (Horizontal)
Hong Kong is a colourful and vibrant city. From traditional red lanterns hanging in temples to the golden yellow lions which dance in the streets, to the iconic green Star Ferry pottering backwards and forwards across Victoria Harbour or is it the blue ocean water and taxis on Lantau that mean Hong Kong to you? 
Featured inside the letters HONG KONG are iconic images seen all around the +852 city. Do you know the meanings behind the colours you see every day in Chinese culture?
Red: Symbolises luck, joy and happiness. It also represents the summer season and the element of fire that comes with it. Decorate in red to attract good luck!

Yellow: An imperial colour in traditional Chinese colour symbolism, yellow represents power, royalty and prosperity. It also represents the earth. Decorate in yellow to attract good fortune!
Blue: Blue represents the element of wood in Chinese culture. It symbolizes immortality and advancement. Decorate in blue to encourage growth and optimism!
Green: In Chinese culture, green stands for cleanliness and purity from contamination. Use green in your decor to represent the environment and encourage good health!
COLOUR OPTIONS
Please let us know which colour you'd like in the NOTES section at payment stage.
Blue:

Yellow:

Green:
Red:
CUSTOMISATION
This is available so that you can create your very own colourful Hong Kong! Please send us a message at hellochinabcs@gmail.com so we can discuss your design further.
SIZES
The sizes and prices listed here are the actual image size,  so in the case of the rolled print, there will be an additional 2"-3" white border (depending on print size) around the image when you receive the artwork in the packing tube.
For ready to hang canvases, the size listed is the actual finished size of the canvas. Each canvas has white sides and is stretched over a 1.5" wooden bar.
For framed prints, we are able to present your chosen art simply with a white, black or grey matt finished with a simple white, black or dark brown wood frame. Again, the size listed is the image size so the final sizes of the received framed art will be approx 2-3" larger that the stated size. 
MATERIALS
Each piece of art is physically created using archival grade Epson Inks. The paper stock is 250gsm premium Epson paper. The canvas is 100% cotton, weighted approximately 350gsm. The combination of these materials together ensures quality, vibrancy and longevity. To prolong the life of your artwork, please hang the piece away from direct sunlight.
CUSTOMISATION & MAXIMUM SIZES
As each piece of art is printed to order, there is an option to resize or customise the art, if you have a specific size or an idea in mind. Please send us an email enquiry to see what is possible. 
The maximum frame size we can construct is 40" x 60". The maximum canvas we can create is sized 50" x 80". The minimum canvas size is 8" x 8".
SHIPPING
The price listed includes courier shipping across Hong Kong. For INTERNATIONAL ORDERS, please send an email enquiry on the additional shipping costs.
All rights reserved. Copyright © 2016-2021 Ginny Malbon.