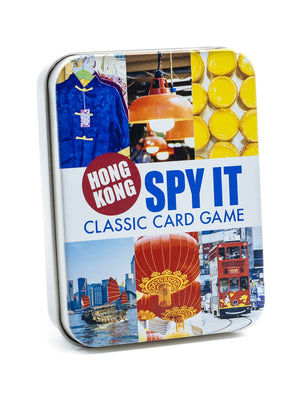 Hong Kong Spy It - Classic Card Game
Hong Kong Spy It - an entertaining card game where attention to detail and super fast reactions are the key to spy and match the same image on the cards as fast as you can! Held within a tin case, it's the perfect game to pop in your bag, take with you and play any time, any place you fancy. A fantastic gift for the young and the young at heart!
There are 31 cards in the deck, each card has 6 different Hong Kong images on it. Between any 2 cards there is always 1 and only 1 matching image. For 2 or more players, the goal is to be the fastest player to spy the matching image on the cards, call it out and win or lose all their cards depending on the game! There are 3 different ways to play this game, instructions are provided on a leaflet inside the tin.
Tin: 70mm x 96mm
Playing Cards: 64mm x 89mm
Quantity: 31
Shipping across HK, takes 5-7 working days. For international deliveries, please contact us at: hellochinabcs@gmail.com for rates.
All rights reserved. Copyright © 2016-2022 Ginny Malbon.