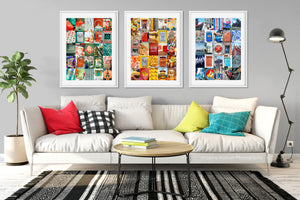 Hong Kong Trilogy
This trilogy was created to hang together with a primary anchor colour of HK's red. Pulling together across the 3 pieces, street icons such as the traditional aluminium handmade letterboxes, egg tarts, tex cups, temple roofs, bird cages, other everyday objects and local scenes to create a vibrant and structured collection of images that evokes memories of all that is Hong Kong.
SHIPPING
Hong Kong delivery is between 5-10 working days. For INTERNATIONAL ORDERS, please send an email enquiry on the additional shipping costs.
The individual colours are also available to buy as singles. 
All rights reserved. Copyright © 2016-2022 Ginny Malbon.