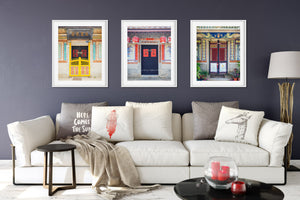 Individual Chinese Doors
A collection of Chinese doors from a small island called Kinmen off the Fujian Coast. Each door is printed on Epson professional paper, using original Epson Inks creating an archival grade print.
Buy either as a single print or mix it with other prints to create a collection on the wall (10% discount is applied for multiple prints ordered). The price includes packing and registered delivery across Hong Kong.
We can also create individual ready to hang canvases, or organise to get the prints framed for you. Just send us a message at hellochinabcs@gmail.com for more information.
 There are 20 different doors to choose from...
Door 1:
 Door 2:
Door 3:
Door 4:
Door 5:
Door 6:
Door 7:
Door 8:
Door 9:
Door 10:
Door 11:
Door 12:
Door 13:
Door 14:
Door 15:
Door 16:
Door 17:
Door 18:
Door 19:
Door 20:
All rights reserved. Copyright © 2016-2021 Ginny Malbon.