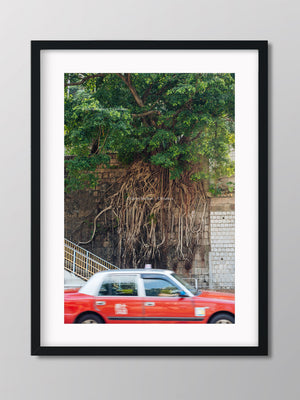 Taxi - Tin Hau
The banyan trees that grow in this city are incredible - when they grow out the wall this like it truly amazes me. The speed of the city that passes by it each day as it slowly keeps on growing skywards.
This image is printed on Epson professional photography paper, using original Epson Inks creating an archival grade print for quality, vibrancy and longevity. To prolong the life of your print, please hang the art away from direct sunlight.

This print is available in 4 different image sizes:

Original - small (8" x 10.5") or medium (12" x 16")
Ikea - 21 cm x 30 cm or 30 cm x 40 cm
Each print will come with a 2 cm paper border in addition to the image dimensions stated above.
Production and delivery will be 5 - 10 working days from your order.
If you would like the print larger, as a framed print or ready to hang canvas, please message us for more details at: hellochinabcs@gmail.com
All rights reserved. Copyright © 2016-2022 Ginny Malbon.